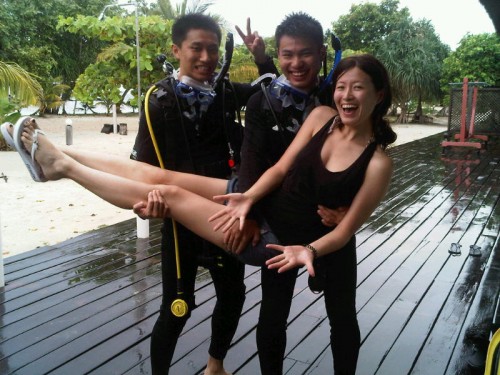 Congratulations to our first e-Learning Open Water Divers from China who have successfully completed their course yesterday!  They opted to complete the theory section on line using the PADI e-Learning system, then come to Pom Pom to take the confined water lessons and open water dives.
ポンポンリゾート初のe-ラーニングによるオープンウォーターコースを受講したのは中国からのゲスト。きのう無事に海洋実習も終了し、ダイバーデビュー。おめでとう!この4人組、旅行前に中国の自宅でPDIのe-ラーニングを受講。そしてポンポン島で海洋レッスンを実施。
I asked them how they felt about the course and this is their response  "As you know He Mu and I took the e-learning padi course before coming to pom pom. This gave us enough time to comprehensively review the theoretical part of the course beforehand and be better prepared for the actual dives. At the same time, it gave us more time to relax and enjoy the great weather in Pom Pom. The e-learning is interactive and very easy to follow. The materials covered are the same as class-based courses, but since there is a person reading the slides, we can just sit back and listen.  Thanks again for being flexible and we hope we will have the chance to meet again in Pom Pom or may be on a dive!
コースの感想を聞いてみたところ、「ポンポンに来る前にe-ラーニングで学科を受講していたでしょ。だからダイビングの実技前に繰り返し復習して準備ができた。そして、ポンポンに着いてからも学科講習を省ける分、十分にリラックスしてリゾートを楽しめたよ。e-ラーニングは講習も対話形式で行われ、それにとってもわかりやすかったよ。」とのこと。
Congratulations to He Mu, David, Lian and Fay, it was fantastic teaching you all, Well done new Open Water Divers!
オープンウォーターコースの取得、おめでとう!みんなと過ごした海洋実習、と~っても楽しかったわ!